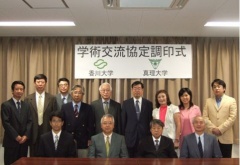 Kagawa University has a history of engaging actively in academic exchanges with overseas institutions. As early as in 1975, professors from the Faculty of Agriculture had visited Asian, African and South American countries to carry out research, provide technical and academic training, and to give lectures at various universities. This was at a time when most other Japanese researchers tended mainly to visit European countries the US.

In accordance with the government's Foreign Student Policy for the 21st Century Act, Kagawa University started to prepare to receive international students and in April 1985 a plan to receive international students at Kagawa University was enacted and a Committee for International Student Affairs was set up. At the same time, progress was made in establishing regulations for international trainees at the university. In 1986, a booklet in English was printed to provide international students with information about the university. In the following year, Japanese language and Japanese Affairs courses were started and the Regulations concerning Foreign Researchers was established. Since then, Kagawa University has undertaken the education of international trainees and researchers.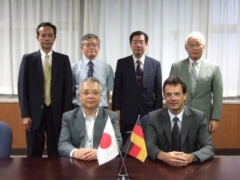 Ten years of research collaboration bore fruit and in 1988 an exchange program was established between Kasetsart University in Thailand and Kagawa University. In the same year, Kagawa Prefecture also started to participate in international exchange programs and established a council for international exchanges to provide assistance for foreigners living in the prefecture. Kagawa University and Kagawa Prefecture have, since that time, been working together on developing international exchange programs.

A dormitory for international students, The International Student House, located at Yashima Nakamachi, eight kilometers from the Saiwai-cho campus, was completed in 1991. In 1994, the Kagawa University International Foundation was established and this is in charge of administering international affairs at Kagawa University.

In October 2003, Kagawa Medical University and Kagawa University merged and a new Kagawa University was founded. The former Kagawa Medical University has made contributions to the local and domestic advancement of medical research, and has been actively involved in international exchanges. Without doubt, such exchanges will continue.

In April 2004, the National University Corporation Kagawa University was established. The university aims at encouraging creative and approachable specialists and researchers who are capable of world-class educational research, and who can also take a lead in working together with the local community towards a more harmonious society and also develop further international programs.