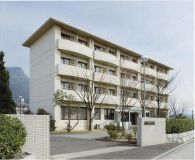 The international house was opened in 1991. It has 32 single rooms and common facilities such as kitchens, laundries, and shower-bath rooms. Room charges are 5,900 yen per month. Utilities are not included in this bill. Generally one year residency is allowed. Because of the limited number of rooms, not all international students can be accommodated.
For international students who are not successful in getting a room in the International House, the normal channel is to find a private apartment. Along with real estate agents in the vicinity, the Kagawa University Coop shop has information on the availability of rooms. Monthly rental ranges from 20,000 yen to 60,000 yen depending on room size, among other factors.
Renting a private apartment in Japan is very costly. Besides the monthly rental, the tenant has to furnish a large amount of funds denoted under several names such as 'key' money, 'gratitude' money, 'deposit' money, etc. In addition, tenants need to have a guarantor while renting a room. To ease the burden on the students, Kagawa Prefecture International Exchange Association has devised a scheme to partially pay for the various types of money, as well as to act as guarantor. Students wishing to take advantage of this scheme need to pay a nominal fee to be eligible. Living expenses in Kagawa average around 50,000 yen per month.