Location
Address
Address : 2217-20 Hayashi-cho, Takamatsu, Kagawa 761-0396 JAPAN
Phone : 81-(0)87-864-2000 Fax : 81-(0)87-864-2031

Location
The Engineering Campus is located in Takamatsu City, the capital of Kagwa Prefecture on Shikoku Island, in the southwestern part of Japan. Takamatsu City has been the gateway to Shikoku Island since ancient times and is the capital of Kagawa Prefecture with a population of approximately 420,000. Takamatsu faces the peaceful blue Seto Inland Sea and is blessed with sunny weather and a mild climate.
There are four campuses in Kagawa University:
Saiwai-cho Campus (Education, Law, Economics) - main campus
Hayashi-cho Campus (Engineering)
Miki-cho Campus (Agriculture)
Miki-cho Campus (Medicine)
Access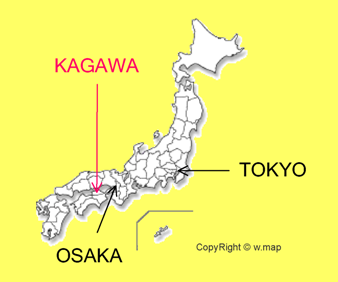 From Osaka (Kansai International Airport):
about 3 hours by train or bus
From Tokyo (Haneda Airport):
about 70 minutes by airplane
Scenery of Kagawa
Kagawa Prefecture is the smallest prefecture of all 47 prefectures in Japan with an area of 1,876 km2 with a variety of scenic locations. The newly developed Sunport in the harbor area of Takamatsu is attractive and exciting. At the same time, Ritsurin Park, a traditional Japanese garden designated as a National Scenic Site is quiet and peaceful. You will see the new and the old coexisting neatly and comfortably.
The Seto Ohashi Bridge is one of three bridges connecting Shikoku and Honshu, the mainland of Japan. Being one of the longest bridges in the world, it consists of 6 bridges and has a unique two-tired structure; the upper deck is a four-lane highway and the lower deck is for the railway. The Seto Ohashi Bridge really is a masterpiece of art and technology and a good way to witness the beauty of the Seto Inland Sea.