Division of Application Development
Physical Sciences
 This field clarifies the physicochemical properties of crystallized rare sugars by various molecular structure analyses and physicochemical analyses, and promotes fundamental researches for development of rare sugar uses in the industrial context.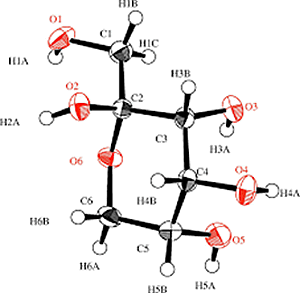 Tomohiko Ishii, Genta Sakane, Akihide Yoshihara, Kazuhiro Fukada and Tatsuya Senoo. 2015. Crystal structure of β-D,L-psicose.

Acta Cryst. E71: o289–o290
Researchers
Fukada, Kazuhiro
Professor
Ishii, Tomohiko
Professor
Takao, Hidekuni
Director of Micro-Nano Structure Device Integrated Research Center & Professor
Kakegawa, Hisao
Professor
Okazaki, Shinichiro
Associate Professor
Terao, Kyohei
Associate Professor
Isoda, Kyosuke
Associate Professor
Molecular Tool Development
 This field promotes a fundamental research on an innovation of the new face in life sciences using rare sugars as a molecular tool rather than simple energy sources as intermediate metabolites for energy transmission.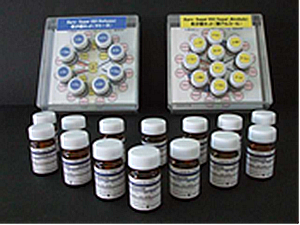 Kagawa University is the only research organization in the world, which can supply all kinds of rare sugars for various types of research and development.
Researchers
Hoshino, Katsuaki
Professor
Kadowaki, Norimitsu
Professor
Kuwahara, Tomomi
Professor
Sugimoto, Mikio
Professor
Tamiya, Takashi
Professor
Minamino, Tetsuo
Professor
Nishiyama, Akira
Professor
Nishiyama, Yoshihiro
Professor
Fujiwara, Yuichiro
Professor
Masaki, Tsutomu
Professor
Taoka, Rikiya
Assistant Professor
Nakamura, Osamu
Assistant Professor
Clinical Trial
 This field carries all responsibilities of clinical trials for the application of the rare sugars. Accumulation of repeated evidences will lead to make use of rare sugars in the treatment such as diabetes in the future.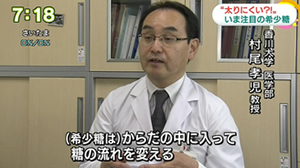 Rare sugars and a part of the results of the clinical trials were shown in NHK nationwide broadcasting program "Good Morning Japan" in June, 2016.
Researchers
Murao, Koji
Professor
Imachi, Hitomi
Associate Professor
Yoshimoto, Takuo
Assistant Professor
Fukunaga, Kensaku
Assistant Professor
Microbial Sciences
 This field promotes a fundamental research on rare sugar producing enzymes using microbes such as purifications, enzymatic reactions, structural analyses for chemical characterizations and application developments.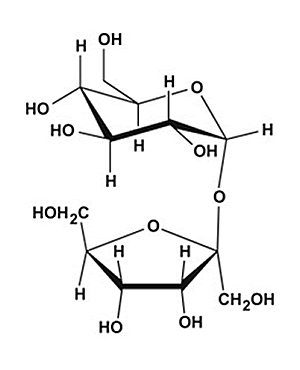 Kenji Morimoto1, Akihide Yoshihara, Toshio Furumoto, Goro Takata 2015. Production and application of a rare disaccharide using sucrose phosphorylase from Leuconostoc mesenteroides.

J. Biosci. Bioeng.119: 652–656.
Researchers
Sakuraba, Haruhiko
Professor
Takata, Goro
Professor
Morimoto, Kenji
Associate Professor
Animal Sciences
 This field promotes a fundamental research on various mode of actions of rare sugars for animals and animal cells for the development of applications using the identified mode of actions.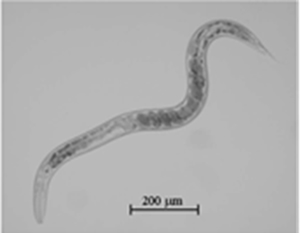 KMasashi Sato, Nobutoshi Yokoi, Hiroyuki Kurose, and Toru Yamasaki 2009. D-Ribose Competitively Reverses Inhibition by D-Psicose of Larval Growth in Caenorhabditis elegans.

J. Biosci. Bioeng.119: 652–656.
Researchers
Sato, Masashi
Professor
Kawanami, Yasuhiro
Professor
Miyake, Minoru
Professor
Hoshikawa, Hiroshi
Professor
Arai, Meiji
Associate Professor
Tsukamoto, Ikuko
Professor
Yanagida, Ryo
Associate professor
Sugiyama, Yasunori
Associate professor
Kawasaki, Kiyonori
Assistant professor
Kamitori, Kazuyo
Assistant Professor
Plant Sciences
 This field promotes a fundamental research on rare sugar actions to plants and plant cells for development of applications as agriculture materials. In addition, an elucidation of various characteristic of Itea plant producing rare sugars is also progressing.
Akihito Kano, Takeshi Fukumoto, Kouhei Ohtani, Akihide Yoshihara, Toshiaki Ohara, Shigeyuki Tajima, Ken Izumori, Keiji Tanaka, Takeo Ohkouchi, Yutaka Ishida, Yoko Nishizawa, Kazuya Ichimura, Yasuomi Tada, Kenji Gomi and Kazuya Akimitsu 2013. The rare sugar D-allose acts as a triggering molecule of rice defence via ROS generation.

J. Exp. Bot. 64: 4939-4951.
Researchers
Akimitsu, Kazuya
Vice Director & Professor
Kataoka, Ikuo
Director & Board of Trustee
Fukai, Seiichi
Professor
Takamura, Takejiro
Professor
Nomura, Mika
Professor
Ichimura, Kazuya
Professor
Gomi, Kenji
Professor
Food Sciences
 This field analyzes rare sugar action properties and food properties such as antioxidative property or viscoelasticity of the thermally processed rare sugar added food to advance the fundamental researches to be connected for food development with an advantage of rare sugar functions.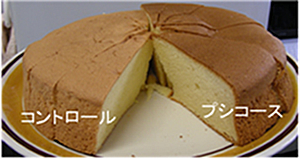 Siwaporn O'Charoen, Shigeru Hayakawa and Masahiro Ogawa 2015. Food properties of egg white protein modified by rare ketohexoses through Maillard reaction.

Int. J. Food Sci. Technol. 50: 194–202.
Researchers
Ogawa, Masahiro
Professor
Matsuo, Tatsuhiro
Professor
Gotani, Shoichi
Professor
Kawamura, Osamu
Professor
Tamura, Hirotoshi
Professor
Yonekura, Lina
Associate Professor
Teaching Material Development
 This field uses Itea plant as a unique educational material for Kagawa region, which is the only plant known at present to contain rare sugars, and presents itself as a teaching material development study by cooperation with Kagawa Itea Research Meeting or the Kagawa CST Program.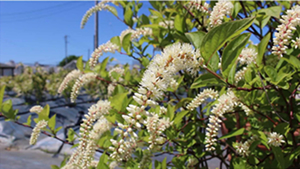 Rare sugars and Itea plant were shown in NHK nationwide broadcasting program "Science Zero" in May, 2013.
Researchers
Kitabayashi, Masahiro
Professor
Yamashita, Naoko
Professor
Miyake, Takashi
Associate Professor
Komori, Hirofumi
Associate Professor
Shinohara, Wataru
Associate Professor